Creative County Grant Program to Open 2022 Intake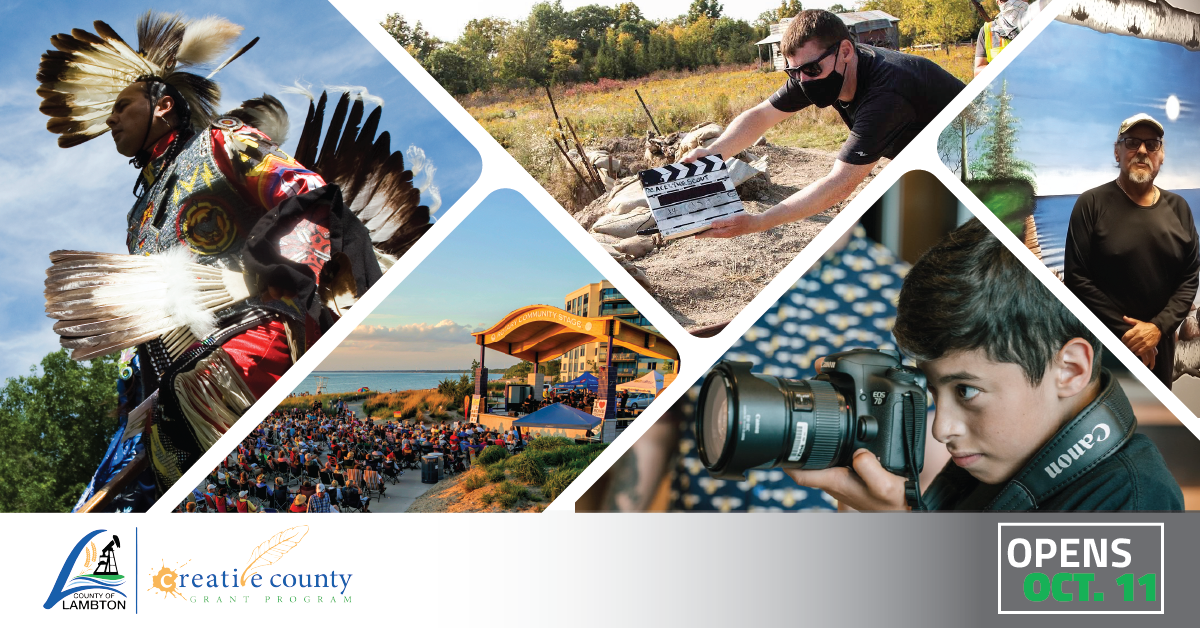 Wyoming, ON - Beginning Monday, October 11, Lambton's Creative County Grant Program will be receiving funding applications for cultural, heritage, and arts initiatives occurring in Lambton County in 2022.
The Creative County Grant Program invests in new and innovative projects that build cultural capacity, strengthen the creative community, define the County's unique identity and enrich the quality of life of all residents. Organizers of new or expanding initiatives are encouraged to apply online for funding to cover up to 50 per cent of project costs.
While the program is normally reserved for operational expenses, the Creative County Committee has expanded its application criteria due to ongoing public health restrictions preventing many cultural events and programs from taking place. For 2022, the committee will consider applications for minor capital purchases to support such projects as the purchase of specialized equipment, public art installations, murals, monuments, heritage markers/plaques, signage etc. Expenses related to capital renovation or construction projects are not eligible.
Further, the committee will prioritize projects led by or in partnership with Indigenous communities that foster awareness of Indigenous heritage and culture, or support local organizations with the implementation of the Calls to Action outlined in the Truth and Reconciliation Commission's report.
"The expansion of program criteria is designed to support cultural organizations in Lambton County with the needs they have identified, and celebrate the diversity of our community," said Brian White, Creative County Committee Chair. "There is also an intentional effort to advance reconciliation with our neighbouring First Nations communities with the support of this funding. The public commemoration of the tragic and painful history and ongoing impacts of residential schools is a vital component of the reconciliation process, and the new criteria the committee has added helps to advance reconciliation as a priority in Lambton County."
Applications for the Creative County Grant Program will be accepted online only at lambtononline.ca/creativecounty starting Monday, October 11, 2021. The application period will close on Monday, November 15, 2021 at 4:00 p.m. The County of Lambton has allocated a budget of $75,000 in available funding for the 2022 program year.
Since its inception in 2013, the Creative County Grant Program has supported over 150 cultural initiatives across Lambton County.
-30-
Please contact:
Brian White
Lambton County Councillor / Creative County Committee Chair
519-464-2585
brian.white@county-lambton.on.ca
Andrew Meyer
General Manager, Cultural Services
Division County of Lambton
519-845-0809 ext. 5236
andrew.meyer@county-lambton.on.ca