Teen Photo Contest opening May 1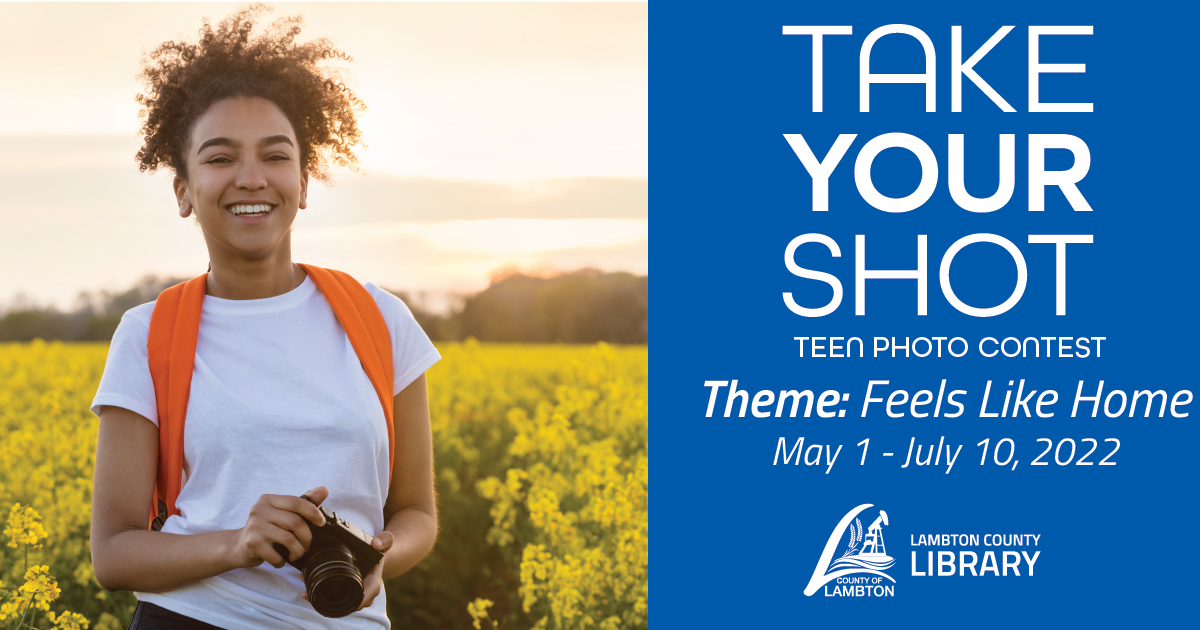 Wyoming, ON - Lambton County Library and the Judith & Norman Alix Art Gallery are partnering up once again this year for the Take Your Shot: Teen Photo Contest.
This year's contest is inspired by the theme Feels Like Home. The contest is asking teens across Lambton County to submit photos that encapsulate the feeling of home – whether this be their actual home, objects or people that remind them of home, or their hometowns.
From May 1 until July 10, Lambton County Library will be accepting photo submissions. The contest is open to teens ages 13 to 18.
All contest entries must be submitted online at lclibrary.ca/teenphotocontest between May 1 and July 10. Winning photos will be selected by a jury and announced on Monday, July 18, 2022. The jury will consist of photographers Natali Bravo and Richard Beland, and JNAAG Curator/Supervisor Sonya Blazek.
The entries must be submitted in one of three categories:
People/Pets
Places
Things
A winner will be chosen from each category plus one grand prize winner. The grand prize winner will receive their choice of $100 to Mainframe in Sarnia, $100 to Carmen's Foto Source or a virtual one hour one-on-one session with award-winning photographer Peter Power. The grand prize winner plus the winners of each subcategory will receive professionally matted and framed versions of their photographs. The four winners plus a selection of the submissions will be featured in an exhibition along with photographs by Larry Towell at the Judith & Norman Alix Art Gallery from August 12 to October 8, 2022.
"This year's contest aims to inspire budding photographers and provide opportunities for them to develop their skills and build their resumes," said Vanitia Campbell, Public Services Coordinator - Youth, Lambton County Library. "Inclusion in an art gallery exhibit and the option of a one-on-one tutorial with a professional photographer are experiences that can help open up further opportunities to develop as photographers."

To kick off this contest, the library and art gallery are hosting a workshop on Tuesday, May 3 from 11:30 a.m. – 1:00 p.m. at the Sarnia Library Theatre featuring Canada's most decorated photojournalist, Larry Towell. Larry will explore the elements that contribute to photographic composition and storytelling. Registration is now open at lclibrary.ca/teenphotocontest.
For more information, contest rules, and instructions on how to submit your photo, please visit lclibrary.ca/teenphotocontest.
Lambton County's 25 library locations provide a variety of free services to the public including programming and Internet access. For more information about Lambton County Library, visit lclibrary.ca.
-30-
Please contact:
Vanitia Campbell
Public Services Coordinator: Youth Programs & Outreach
County of Lambton
519-845-3324 ext. 5237
vanitia.campbell@county-lambton.on.ca