One Seed Lambton is a program to encourage everyone to grow their own produce and save their own seeds for next year's planting. Each year, a single seed variety will be announced and available at no cost to all participants. Throughout May to October, programs and workshops that explore the life cycle of a plant from planting to harvest will take place throughout Lambton County. All levels of gardening experience are welcome, from those who have never grown a single plant to those who have green thumbs.
Selected Garden Seed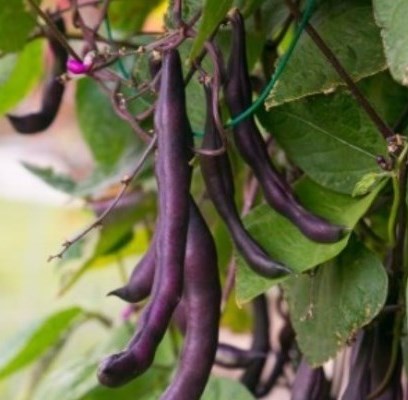 Royal Burgundy Bush Bean
The selected garden seed for this year is the Royal Burgundy Bush Bean. This easy to grow seed turns into a strong upright plant with pretty purple flowers and dark purple pods. Dark purple, round, stringless pods reach a length of 15 cm (6") and are held off a plant that reaches a height of 38-52 cm (15-20"). This high yielding variety is well suited to cooler soils. The richly flavoured pods turn green after cooking, which is helpful when blanching for freezing.
Visit your local library today to pick up your seeds!
Planting Instructions
21-22° Celsius germination temperature
2-5 cm planting depth
5-8 cm plant spacing
15 cm row spacing
full sun
8-16 days to germination
Donating Fresh Produce
There are a variety of groups and organizations across Lambton County accepting donations of fresh produce. These locations provide food to food insecure people in the community. If you have an abundance of fresh produce from your garden, here are a list of organizations and their drop off times where you can donate your extra produce.
Food Banks
115 John Street, Sarnia
Monday – Friday; 8:30 a.m. - 4:30 p.m.
519-344-1746
970 Confederation Street, Sarnia
Tuesday – Friday; 9:00 a.m. -12:00 p.m.,
1:00 p.m. - 3:30 p.m.
519-344-1142
260 Mitton Street North, Sarnia
Daily: 10:00 a.m. – 6:00 p.m.
519-383-8463
1300 Tashmoo Avenue, Sarnia
Monday: 8:30 - 4:30 p.m.;
Tuesday: 8:30 - 10:30 a.m.
519-332-6770
555 Ontario Street, Watford
Wednesday: 10:00 a.m. – 1:00 p.m.
macundick@brktel.on.ca
Accepts a limited quantity of fresh produce to avoid spoiling.
Voice of Truth Church
2554 Elizabeth Street, Oil Springs
519-834-2984
Tuesday; 12:00 – 1:30 p.m.
4156 Petrolia Unit 1, Petrolia
519-882-3950
Call to make an appointment to drop off fresh produce.
Community Refrigerators
Parking lot of St. Paul's United Church
4169 Petrolia Line, Petrolia ON
Daily 8:00 a.m. – 8:00 p.m.
Upcoming Programs and Events
Harvesting with Vanitia
Check out the tips Vanitia, our Public Services Coordinator - Youth gives for the One Seed Lambton selected choice this year, the Royal Burgandy Bean.
Wednesday, August 31, 6:30 - 7:30 p.m.
Wyoming Library
Learn techniques on how to let your plant mature to save seeds for next year's garden and how to prepare your garden bed or container for the winter season with certified seed collector, Michael Schimp.
Seed Library

The Seed Library is a free, community-driven seed borrowing system that provides an opportunity for people to grow their own healthy food. Library card holders borrow vegetable and herb seeds that they plant, grow, and harvest while letting a few plants mature and return to seed. Borrowers then return these new seeds to the Library collection. By returning seeds from successful plants, local gardeners help sustain the Library's collection.